SPA TOWNS IN WEST BOHEMIA
The region is also known as Goethe´s love - having stayed here several times, he spent a total of over three years in West Bohemia, which is longer than his stay in Italy. What does the spell of West Bohemia exactly consist of, why has the region been attracting people both famous and ordinary, from far and near, for several centuries?
Most remarkable about it is the unusual concentration of tourist, cultural and natural attraction on a relatively small territory. As one of the visitors put it: it is a land with a thousand different faces - everyone can find there exactly the things he or she loves. An old historical land, romantic and noble, with undulated plains, ancient forests, picturesque valleys, hot and cold mineral springs, idyllic corners, palace gardens and medieval castles….
It is also a land where both body and soul are healed. The spas in West Bohemia, the
Land of Health
, have for centuries been the place where generations of sufferers have sought cures.
Marianske Lazne
is the health resort for people with diseases of the respiratory tract and urological disorders,
Karlovy Vary
helps people with problems of digestion,
Frantiskovy Lazne
offers cure for gynecological and heart diseases, Kynzvard helps children with respiratory diseases,
Konstantinovy Lazne
is for patients with cardio-vascular problems, and Jachymov brings relief to people suffering from diseases of the motor apparatus…
West Bohemia is a huge, natural clinic. Among the immense wealth of mineral springs gushing out from the ground, there is likely to be one for almost every possible disease. Patients have been seeking cures in West Bohemia´s spas since the Middle Ages, and the local mineral water used to be sent in earthen bottles with tin caps even to remote places from the late 19th century.
KUTNA HORA
It´s hard to imagine today, but in its time this town about 65 km east-south-east of Prague was Bohemia´s most important after Prague. In the late 13th century, silver ore was found in these hills, and a town sprouted up. In 1308, Wenceslas II. imported a-team of Italian minters and established his central Royal Mint here. Today Kutna Hora is a fraction of its old self, but still dressed up in a collection of fine architectural monuments. The historical centre is compact enough to see on foot. Most attractions lie between the central square, Palackeho namesti, and the St Barbara Cathedral in the southwest corner of town.
SOUTH BOHEMIA
has several historical towns among which Cesky Krumlov is certainly the most remarkable. In no other town in Bohemia has such a large castle complex been preserved as a unique example of medieval architecture. Nowhere else had a steep rock washed by the waters of the river Vltava been so imaginatively used for the construction of a medieval town. This can best be appreciated from the Renaissance gallery of the chateau tower. A part of its historical beauty is the chateau's Hall of Masks richly decorated with painting from the time of commedia dell´ arte, the Baroque palace theatre which still has the original, historical scenes, and an old riding school in the chateau park.
TEREZIN
Even were it not for their savage use by the Nazis, the massive strongholds at Terezin would be awesome. Founded in 1780 by Emperor Joseph II. In the 19th century the town within the Main Fortress was made a garrison, while the so called Lesser Fortres served as a jail and the WW I prissoner-of-war camp. In 1940 the Gestapo established a prison in the Lesser Fortness at the end of 1941 they averted the towns people from the Main Fortress and turned that into a transit camp and ghetto through which some 150,000 European Jews eventually passed en route to extermination camps.
KONOPISTE
The French-style castle of Konopiste dates from 1300. It received a handsome neo-Gothic face-lift in the 1890s from its last and best known owner, Archduke Franz Ferdinand d'Este, successor to the Austro-Hungarian throne, whose June 1914 assassination set off WW I.
The man was an obsessive hunter, as you will see from a tour through the dark, wood-panelled castle, packed with a grossly over-the-top collection of dead animals and an armoury of hunting weapons. In 25 years he dispatched several hundred thousand creatures on the 225-hectare estate.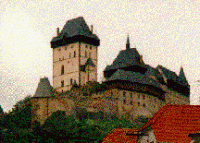 KARLSTEJN
Charles IV founded this castle in 1348 as a storehouse for the crown-jewels and as a getaway from the pressure in Prague. The only way to see the castle from the inside is together with a guide, and you can be sure the guide will look after you because of recent examples of vandalism. If you like to go hiking there are some beautiful tracks around Karlstejn.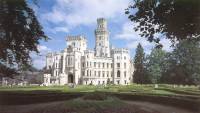 HLUBOKÁ NAD VLTAVOU
Hluboká nad Vltavou is a romantic castle rebuilt into English Thudors gothic during 1841-1871. The whole complex is surrounded by Englishstyle park.The interiors of Hluboká castle contain many artistic objects gathered by Schwarzenbergs.